When You're Back by Abbi Glines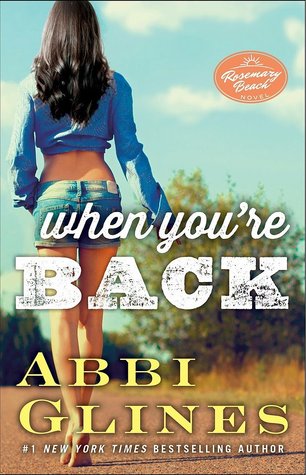 THIS REVIEW CONTAINS SPOILERS!!! YOU HAVE BEEN WARNED!!!
Mrs. Glines books are guilty pleasure reads for. I'll always pre-order her books when they come out, read them in two hours, and patiently (chalking up the days till I get a her new books) wait for the next one. She gives me full dose of NA angst and naughty boys that subsided me for only a few hours.
I liked reading this book because, you know Mase (save the horse, RIDE the COWBOY) and Reese are such a great couple. I love seeing them together. But, this book did seem to fall short because some of attention went towards Captain (River Kipling a.k.a Blaire's half brother). Also Aida needs go somewhere else. She's right up there with Nan and Georgette the characters that hold all my dislike for them.
Reese had shining moments in this book the made my heart burst a little bit. She had Mase's support which really meant so much to her. Their relantionship doesn't seem pushed or forced, it just follows so easily. Those last few chapters were...wow... I was literally biting my nails to see what happened. Now I want to know whose book going to be next.
pear-cut pink morganite ring with rose-gold band
Well anyways I would've gave this book 4 stars but it only gets 3.5 stars. But I can't wait for some of the new arrivals.