All The Bright Places by Jessica Niven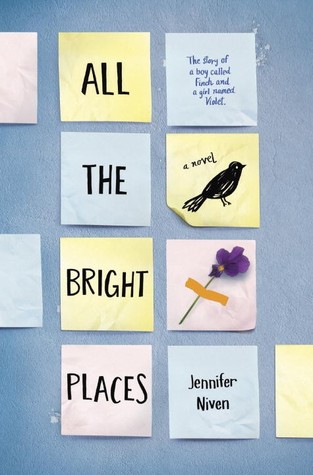 THIS REVIEW CONTAINS SPOILERS!!! YOU HAVE BEEN WARNED!!!
This really kicked into gear those last hundred pages. Phew... gonna need a really happy book after reading this one.
The books secondary characters: Charlie and Brenda, I think needed more spot light. They were like this beacon of light at the end but didn't seem to be able to reach it. I really would've loved more Charlie time. He was diverse and a very likable character.
We don't really realize there is mental illness in this book till the very end. If you remember from my review on The Last Time We Say Goodbye by Cynthia Hand you'll know that mental runs through my family. My younger brother has Bipolar Disorder (which Finch has in the book). It was sad knowing nobody helped Finch with his BPD or knew any of the symptoms. I could see so much of my brother in Finch and how he's faced the same troubles that Finch had to face. It was really hard to read sometime knowing that this could've been my brother also if we didn't know he had BPD. Glad that Niven's did deal with such a touchy subject as mental illness but it felt half way done and I felt they deserve accurate representation.
This did seem a little lackluster in other parts like: insta-love meets stalker, I wanted more depth with Finch and Violet. Not just the outer quirky indie romance. I felt Violet's grief for her sister was overshadowed by Finch's perspective.