Spellcaster by Claudia Gray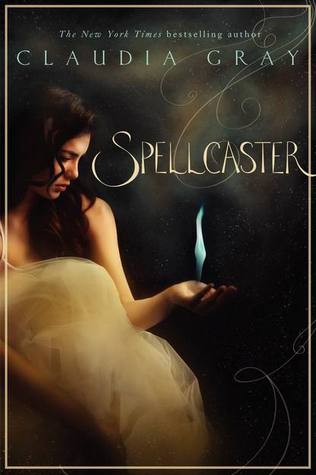 THIS REVIEW CONTAINS SPOILERS!!! YOU HAVE BEEN WARNED!!!
After reading the blurb in Fateful (also by Claudia Gray) I knew I had to read this. First of all witches! I'm a big fan of all the folklore and history (Salem witches trials and The Crucible). But when I do get my hands on a YA witch books they usually disappoint me. *cough*Balefire*cough* or I'm like really this just happened and were all going to be okay with this? *Ashes to Ashes*.
Back on the the main event. This really interested because you know Claudia Gray!!! I have read almost all her books (except for Steadfast and Sorceres) and I love her books. So picking this up I didn't get all my hopes up because when I do, the book starts taking a walk towards "why did I read this for" street. This book follows Nadia Caldani, a witch in training and her family (except for mom because is on her own Midnight Train) to Captive's Sound (for some reason, I thought this city was like the desert, don't ask) where their moving to get a fresh start. And it started with a crash. Literally. car crash. Then all tall, dark, and handsome Mateo Perez saves our main heroine.
(Ms. Gray's idea of Mateo (a.k.a Tyler Posey))
Here's some info on the book. Told in third person with lots of POV's. Gotta keep your head on straight for this one. This book is the first and please remember that. More of this wonderful story is to come (even freakin' Elizabeth ugh.) but, if you know an Asa (from I don't know where, Jay Crownover's beloved character) then I think you'll enjoy this one to.
On to one of my favorite characters: Verlaine (Vera + Elaine). My six foot silver haired fox. She is a very enjoyable character to read about. So much has happened to girl (and know she's not doing the gray hair trend. Her hair was shocked that color). I hope much happiness comes to her (most likely not if Elizabeth is still alive.
Okay I think that's all I wanted to cover on this review. Don't want to give you all the info so, go pick this book up (or anything else by Ms. Gray) and read it!
3.5 stars