A Court of Thorn and Roses by Sarah J. Maas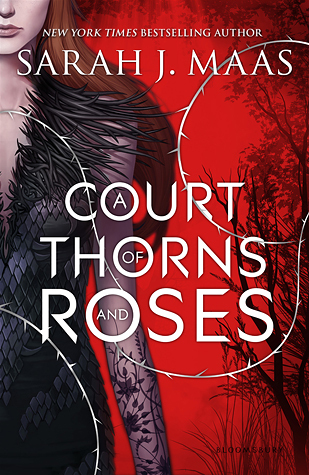 THIS REVIEW CONTAINS SPOILERS!!! YOU HAVE BEEN WARNED!!!
For some reason I got more Howl's Moving Castle then Beauty and the Beast. But that's probably because I saw Maas' Pinterest board for ACOTAR and she compares Howl and Tamlin with there looks. Which I don't mind. But I did get the aspects of B&TB from reading this book.
This story follows Feyre, the only provider for her family. When she kills a "wolf" on one of the hunting trips, crap hits the fan. Enters Tamlin, High Lord of the Spring Court, Turns into beast that can't take off its mask. Because some evil witch from the west (she's really not a witch) put a curse on him.
Here's how the curse works: Everyone wheres a mask the Spring Court until Tamlin can find a human that says "I Love You" to him. Hell, I would've been first in line. Well had 49 years to do it. Lets say he almost made it till he told Feyre to go across the wall. 3 DAYS!!! That's all he had left I bet you one of my cats Feyre would've been on the "i love you" bandwagon for him.
My heart has been stolen by Rhysand. Sweet babies. Even Feyre said it best: "Standing before me was the most beautiful man I'd ever seen." Better than Tamlin. Who you made bed sheet play with? First of all, don;t be greedy Feyre, it's not very becoming and, second YOU GOT FREAKIN' TAMLIN!!! HIGH LORD OF SPRING COURT, HOWL LOOKLIKE!!! Save some for us ladies out here!
Can't wait to read more of this series. New Adult and Fantasy!? My besties! IF you haven't read anything from Maas get your ass on it. You've missed 4 books and I don't know how many novellas.
4 stars