Until the End by Abbi Glines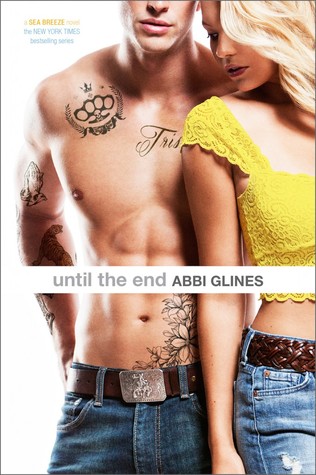 THIS REVIEW CONTAINS SPOILERS!!! YOU HAVE BEEN WARNED!!!
Sad face
☹
...This is the finale. No more* of the beloved characters of the Sea Breeze series (walks to the corner of the room and sobs). I bought this book when it released on Oct. 28 so, I stayed up for another 2 hours to read it.
We started off with Trisha and Rock. We have all been waiting for story for them (or Green. Because who doesn't love Green?). It starts 8 years ago when they were seniors in high school. Rock, football star and everything is going wonderful for him. Trisha, however has to deal with a horrible step mother and raise her baby brother (Krit Hot Pants Corbin).
Their story is like Cinderella. Except I can actually stand this Cinderella(Trisha) and Prince Charming is hot and caring(Rock). And their happily ever after is so sweet!
Now on the novellas. Loved them and got everything I wanted when I read them. Favorites were Marcus and Low's & Krit and Blythe's. Their my favorite couples.
Chapter 10 years later is where it got to me. Our POV is Bliss York(Eva and Cage's baby girl) and she's talking about all the other next generation Sea Breeze kids(which I'm hoping have their own books) and guess who meets. NATE RUSH FINLAY! I literally fangirl screamed when I saw his name. #2lastwords is floating around twitter like chickenpox's at Pre-K. So if you were wondering what that meant(hopefully you have read the books). But please don't spoil this for anyone who hasn't read this one or any of the Sea Breeze series.
But this series has come to an read and it will always hold a place it my heart. I'm giving this book 4.5 stars and the series 4.75 stars.