Better When He's Bad by Jay Crownover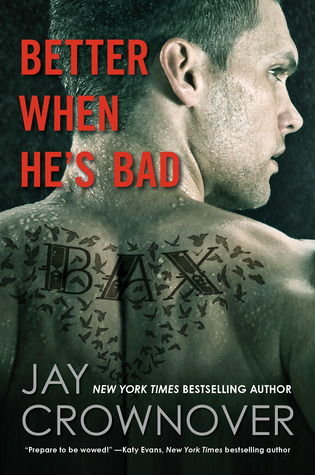 THIS REVIEW CONTAINS SPOILERS!!! YOU HAVE BEEN WARNED!!!
This was amazing! Never a boring part in this book. Ms. Crownover's books are so easy to read and keep you guessing till the end. Like how we found out Titus was his brother and Novak was his dad. That surprised to no end.
Plus it help that our female protagonist is a redhead. I have a soft spot for redheads : ) I also love how she gives her main POV's such unique names.
This book follows Shane"Bax" Baxter and Dovie Pryce. And Bax isn't just your regular bad boy. He literally is one. Been behind bars for five(his brother Titus put him there, he's a cop) and he comes back to Point to find his friend Race. He later finds out that Dovie(our adorable redhead) is his sister.
I'm not going to spoil anymore of the story but, if you love Ms. Crownover's Marked Men series, I highly recommend her Welcome to the Point series.
I'm giving this book: