Three by Kristen Simmons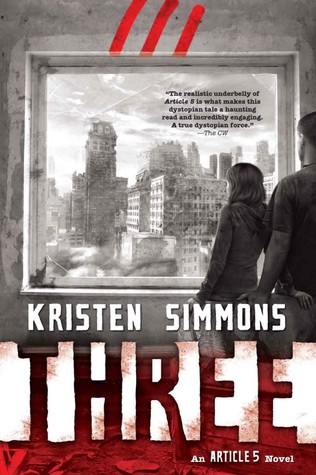 THIS REVIEW SPOILERS!!! YOU WERE WARNED!!!
This series has come to a end. I had a bumpy ride (and by bumpy I mean fires, explosions and some killings) to get to this bittersweet ending. This story takes off with Ember and Chase finding Endurance this walled city where the rebels and (Three, oh sorry I mean Three's! Gasp!!! What there is more than one?!) surprise bitches Dr.DeWitt is the man in charge! (Spoiler* Cara is his daughter and she's alive!) This almost always happens in a YA book. They finally have sex in the third (sometimes second) book. Yeah, Chase and Ember made boom goes the dynamite in a barn. Very classy guys... Anyways onto my favorite...the deaths! In order of my favorite: Tucker, Billy, Rat, and Jeese (I forgot how he died but oh well). Spoiler*2 Tucker is shot in the chest by Wallace. Of course Ember freaks the freak out (I don't know why for, he betrayed them for some fucking star.) Anyways I give this book ★★★★ STARS!!!