Not a Drop to Drink by Mindy McGinnis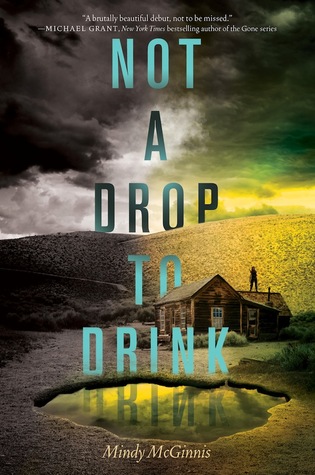 THIS REVIEW CONTAINS SPOILERS!!! YOU HAVE BEEN WARNED!!!
Ok, just finished this book 10 minutes ago and I'm paralyzed from reading such an amazing book! In the synopsis it's says "
this book is like Hunger Games meets Little House on the Prairie"
but please-please just don't assume this book is Katniss protecting a pond. It's way more than that. Lynn (meaning- From the Lake, ha-ha funny book humor)
loses her mom and now has to protect herself from all the other things that are trying to get to the pond, which her mother and her shared duties for. Stebbs (love the old man) the man over the hill helps her understands some things. She meets a few other people on the way. Here are few lasting words and names-Lucy, grave, Green Hat, south, yellow house, Molotov bombs, father, and here an extra did pit, this book is optioned for a film, yeah! It's only been out 8 months and it might get a movie!!! I gave this book a spot on my Fav Books of 2014 and
★★★★★.