Ignite Me by Tahereh Mafi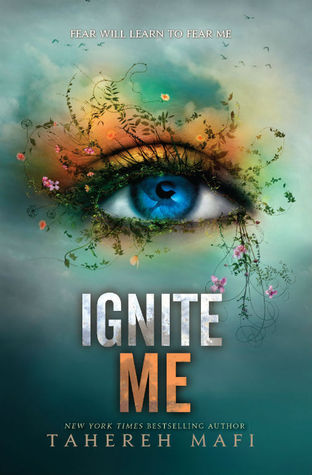 THIS REVIEW CONTAINS SPOILERS!!! YOU HAVE BEEN WARNED!!!
First off lets all give Mafi a big around of applause for making this series so awesome to read, enjoy, and have Kenji in our lives together. I think my all round man book crush goes to Kenji (so sorry Strider, but Kenji makes me laugh!). I'll quote a few quotes from Kenji "That's like, biological and shit. Scientific. Maybe your lady bits are scientifically confused." and "So tell me again why you like Warner so much? Did he like, take all his clothes off or something?" and "Back to work. And this time, focus. You're not a ape. Don't just throw your shit everywhere." Warner actually laughs. Out loud. Kenji is just amazing he's is the comedy to this drama and Juliette's BFF. Now let's start on Warner.
Because oh sweet babies that man is fiiinnneee! That's how I see Warner. Half naked. All the time, even if he has clothes on. He's naked. Here's a snippet from the book with Warner in it. "Warner is wearing a towel. A towel." and another one "I trace the stitching on the soft cotton, following the lines on the overlapping pieces of his boxer-briefs as they intersect in the middle. He's breathing so fast I can hear him, can see his chest moving. His eyes are squeezed shut. His head tilted back. His lips parted." Holy shit! Who knew just by describing Juliette running her fingers up Warner's man bits could be so sexy. And in a YA book none the less. Other authors should be taking notes from Mafi. Because dang girl, I want my own Warner or two. With a side of Kenji. I give this book: